Throughout her career, Marisa Torres, a senior bioinformatics software developer with LLNL's Global Security Computing Applications Division, has combined her love of biology with coding. "Contributing directly to the nation's pathogen detection capabilities keeps me motivated," she says. She holds a B.A. in Molecular and Cell Biology with a minor in Computer Science (University of California, Berkeley) and an M.S. in Biomedical Informatics (Stanford University).
Torres came to the Laboratory in 1999 as a bioinformatics intern, working on an early prototype of the BioWatch program and later creating LLNL's first computationally designed DNA signatures for use in biosecurity monitoring. During this time, she completed her Master's degree and worked directly with public health researchers to improve detection of disease outbreaks.
Torres values LLNL's support of educational and career development as the bioinformatics field grows. She states, "I'm enthusiastic about learning new techniques and applications of machine learning for biology."
Today, Torres serves as lead bioinformatics software developer on biosecurity projects supporting the Global Security Program. Her team is building a core microbial sequence characterization capability to determine biothreat severity and detect potential genetic engineering. The Gene Surprise toolkit promises to advance forensic analysis of both bacteria and viruses.
"This system performs metagenomic characterization of a complex sample and forensically determines whether a pathogen has been genetically engineered with a virulence mechanism," explains Torres.
Torres also contributes to the Accelerating Therapeutics for Opportunities in Medicine (ATOM) consortium. The project aims to accelerate the drug discovery pipeline by building predictive, data-driven pharmaceutical models. ATOM leverages the specialized hardware of high performance computing to scale algorithms and accelerate analysis. Torres notes, "We're using graphics processing units to speed up running the machine learning tools on pharmaceutical datasets."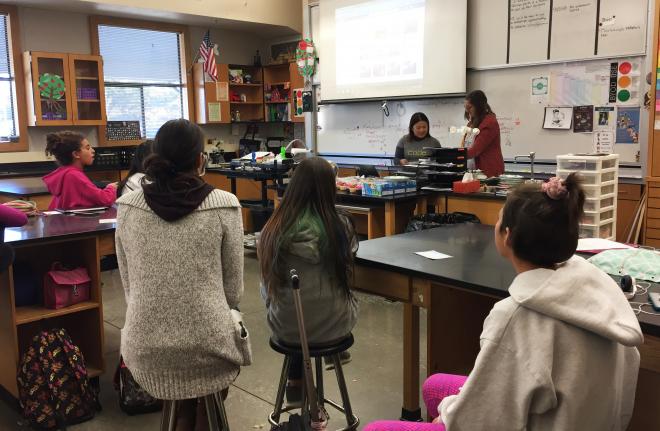 As a Girls Who Code volunteer, Torres encourages local middle school students to explore coding. She also mentors LLNL student interns for the Data Science Summer Institute and emphasizes the importance of being a role model for the next generation of female scientists. Torres recalls, "I didn't learn how to code until college because I would have been the only girl in my high school computer science class. I remember being one of three women in a college computer science class."
In March 2018, Torres organized a regional symposium in conjunction with Stanford University's Women in Data Science (WiDS) conference. The day-long event included presentations from female scientists, breakout sessions, and a livestream of the Stanford conference. "I became a WiDS ambassador because having a place to share stories about our work and experiences will help women succeed in science," says Torres.
Recently, Torres was honored by LLNL's Data Science Institute for her long history of service in both the data sciences and the Laboratory's missions. She continues to participate in LLNL's onsite educational opportunities, such as machine learning courses and reading groups. Outside the Laboratory, she enjoys learning erhu (a Chinese two-string fiddle) and classical guitar. Torres also sings in a choir.