LLNL's formidable presence at the annual Supercomputing Conference (SC21) included leadership of the Student Cluster Competition (SCC), which was held in a hybrid format. Computer scientist Kathleen Shoga served as this year's SCC chair. Since 2007, the competition has challenged undergraduate and high school students to learn and optimize scientific applications for high performance computing (HPC) workloads in just 48 hours.
Shoga, who works in Livermore Computing's Tools Development Group, became involved in the SCC during college when LLNL supported the University of the Pacific's all-woman team. She competed for two years, captaining the team in the second year, and the experience motivated her to remain involved after joining the Lab in 2015. Shoga has served on the SCC committee since SC17.
"I wanted to give back to the competition that inspired me to work in HPC," she stated. "It has been rewarding to talk with students and see them succeed. I hope that the SCC continues to inspire and help students to learn about supercomputing and accomplish their goals."
Conducting the SCC in a dual format was a significant logistical challenge. Students from universities around the world competed in 10 teams, with some participating onsite in St. Louis and others virtually via Zoom breakout rooms. "The hybrid experience was more difficult than purely in person or purely remotely because both in-person and remote preparations were needed," Shoga explained.
While Shoga attended remotely, her LLNL colleague Rigo Moreno Delgado served as her proxy onsite. "Kathleen ensured that students had everything they required and quickly notified the infrastructure team if there were issues that needed to be resolved. As there were teams from all over the world, she worked late into the night multiple times to stay informed about the competition." he said.
Despite the challenges, Shoga added, "It was also rewarding to work with great people on my committee to make the competition happen this year. I really enjoyed chatting with the students on the teams and working with everyone to make the SCC as successful as possible."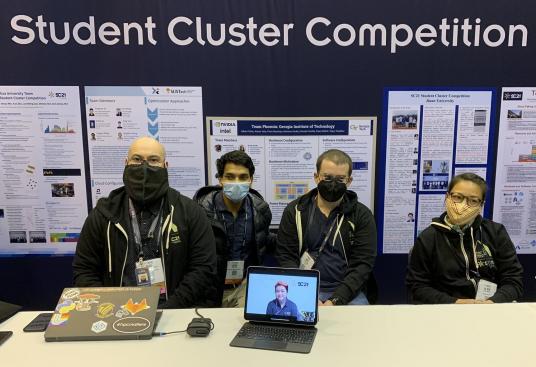 For the first time, the competition included two cloud providers, Microsoft Azure and Oracle Cloud, and therefore two sets of constraints. Shoga explained, "With Microsoft Azure, students had the flexibility to choose different hardware, but had a fixed budget. With Oracle, teams were required to use particular hardware." Science applications were split between the two providers, and students performed their benchmarking on Azure clusters.
"Teams were eager to start the competition and took off running as soon as it started. They overcame several challenges such as using cloud infrastructure and having to adapt on the fly to code issues," noted Moreno Delgado, a 3-year SCC committee veteran. Students were tasked with running the Quantum Espresso first-principles modeling code, the LLNL-developed Cardioid heart simulation toolkit, and a mystery application. Teams' results were logged on a performance dashboard showing their clusters' metrics including burn rate, memory utilization, and reproducibility. Southern University of Science and Technology recorded the highest Linpack score, while Tsinghua University was the overall winner.
Acknowledging the rest of the committee including LLNL computer scientist and SCC vice chair Stephanie Brink, Shoga looks forward to meeting students again at the SC22 competition. "Stephanie and I were part of the same SCC team in college, so it was great to lead the event together this year. I'm also grateful to Rigo for being the infrastructure lead and supervising the onsite activities," she stated. "The competition wouldn't have been successful without my committee, the applications experts, the cloud representatives, and other SC21 leaders. Everyone worked so hard together to make the event a success, and I'm grateful to have been part of it."
Shoga's wrap-up slides are available online and include the full list of SCC committee members and competition sponsors. Additional photos are also posted.
—Meg Epperly