Motivation
PMPI: Success Story for HPC Tools
Transparently intercept all MPI calls.
Achieved by prelinking the tool to the application.
Standardized interface.
Used by many tools.
Shortcomings of PMPI
Supports only single concurrent tool.
Requires pre-linking.
Prevents tool modularity and code reuse.
Our Approach

Virtualize PMPI interface.
Enable dynamic linking of multiple PMPI tools.
Extensions for modularity.
Reuse existing binary PMPI tools.
Allow dynamic tool chain selection.
Architecture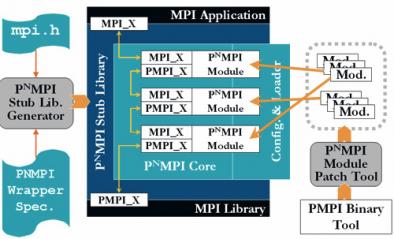 Itself Implemented as a PMPI Tool
Thin, low-overhead wrapper library.
Automatically generated from mpi.h file.
Can be linked by default.
PnMPI Core
Only activated if some loaded tool intercepts routine.
Dynamically created tool chain.
Configuration and Module Loading
Module library.
Binary rewriter for existing PMPI tools.
Configuration file to select modules.
Publish/Subscribe Interface for Tool Services
PnMPI-aware modules can register services.
Other modules can query services and use them.
Can be used to implement generic tool services such as:

Datatype walking.
Request tracking.
Generic communication interception.
Dynamic Tool Chain Selection
Each module can point to arbitrary successor module/tool stack.
Decision can be done at runtime, e.g., based on routine arguments.
Enables dynamic tool scopes and/or tool multiplexing