Like many LLNL computer scientists, Kathryn Mohror juggles multiple responsibilities both at her workplace and in the scientific community. She came to the Lab as a postdoctoral researcher in 2010 and joined Computation's Center for Applied Scientific Computing (CASC) as a staff scientist in 2012. Today she leads CASC's Data Analysis Group, mentors students, and conducts peer review for scientific journals. With research interests in scalable fault-tolerant computing and input/output for next-generation computing systems, Mohror co-chairs the Tools Working Group for the MPI (message passing interface) standards body and is a member of the international Supercomputing conference committee. She also leads LLNL teams developing the open-source software tools SCR and Unify. In other words, her plate is usually full.
Nevertheless, when Computation's associate director Bruce Hendrickson nominated her for a 12-month term as scientific editor of LLNL's Science & Technology Review (S&TR) magazine, Mohror was excited. "The position offered an appealing opportunity to learn about work going on at the Lab. I knew absolutely nothing about magazine publishing," she states. Mohror served S&TR during fiscal year 2018 (FY18). Her predecessor was materials engineer Eric Duoss, and her successor is chemist Dawn Shaughnessy.
Published eight times annually, S&TR showcases the Lab's scientific and technological accomplishments in service to the nation. The magazine is funded by the office of LLNL's Deputy Director for Science and Technology and operates under the direction of Paul Chrzanowski. The Lab's Technical Information Department furnishes the team of editors, writers, graphic designers, photographers, videographers, animators, and web developers responsible for the print version, online version (str.llnl.gov), and accompanying videos on YouTube.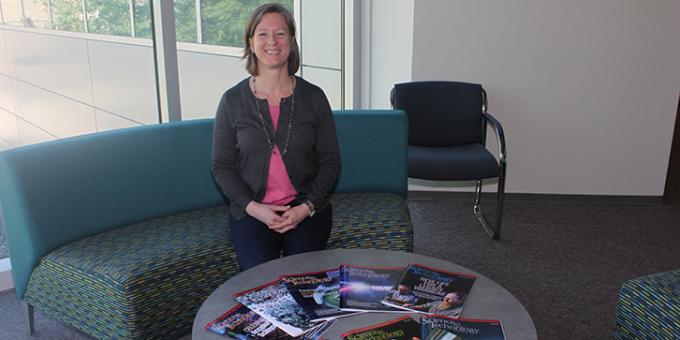 A Range of Duties
According to Chrzanowski, a successful S&TR scientific editor not only possesses a strong science background and broad interests, she also has a knack for recognizing and framing a good story. "Kathryn was our twenty-second scientific editor," he says. "Each editor brings his or her own perspective and personal interests, which makes each year a little different. Editors need to work effectively with the many personality types at the Lab, and they both lead and rely on an experienced production team."
During her appointment, Mohror met weekly with the S&TR production team and kept her finger on the pulse of the latest advances at the Lab. Her main priorities were identifying topics for each magazine article, meeting with the principal investigators, and providing the writing staff with abstracts to work from. "We can only cover a limited amount of the great work going on at the Lab, so it's important to select stories prudently," explains Chrzanowski. Each issue contains one feature article—the cover story—and three research highlight articles. At any given time, the S&TR production team works on four to five issues in different stages.
Mohror's responsibility continued after the articles were assigned. She helped ensure each story maintained the appropriate focus and scope, and she served as a resource for technical information. Caryn Meissner, one of two S&TR production editors, adds, "When the writing process is complete, the scientific editor performs the classification review for each article, sometimes coordinating with other subject-matter experts if the topic warrants it."
After each cover story was drafted, Mohror initiated the issue's related Commentary, which is typically written by a member of the Lab's top-level management team. As each issue neared completion, she helped the production staff navigate any sensitive or technical problems that arose. For example, the final FY18 cover story on cube satellites required multiple sponsor approvals, which put Mohror on standby to resolve classification-relevant details introduced by the various parties.
Throughout the production process, diplomacy is crucial. S&TR production editor Paul Kotta notes, "Sometimes a researcher wants to expand the article far beyond what is possible with regards to space on each page. Because nothing can be added without deleting something else, Kathryn decided how to deal with such requests. She was also our 'escalation department' if a reviewer failed to get back to us."
Exposure and Connections
For Mohror, the S&TR experience opened her eyes to the rest of LLNL beyond Computation. She states, "Thanks to exposure to other projects and programs, I am able to make better connections across the Lab." Additionally, she appreciated seeing science communication from another angle. "Science writers can distill complex concepts into something completely understandable. I hope this makes me a better scientist when I explain my own work," Mohror adds.
S&TR covered a range of topics during Mohror's tenure. Feature articles included the Center for Accelerator Mass Spectrometry's 30th anniversary, neurological research into how the brain functions, the National Ignition Facility's (NIF's) Advanced Radiographic Capability, breakthroughs at the Forensic Science Center, and the W80-4 life-extension program. The 24 shorter highlight articles under Mohror's purview brought attention to NIF's x-ray diagnostics, LLNL's annual postdoctoral Research Slam, the Seismic Cooperation Program, simulations of metal hardening behavior, military education programs, and much more. She notes, "I had to make sure we showcased the breadth of the Lab's work without being repetitive or showing favoritism to Computation." (A few articles featuring Computation staff made the cut, such as the software projects XBraid and ScrubJay plus a cover story on machine learning.)
A Stellar Year
Chrzanowski, Kotta, and Meissner agree that Mohror was a standout in this demanding role. "It was a stellar year for S&TR," says Chrzanowski. Meissner, who has worked with 11 scientific editors, points out, "Kathryn clearly understood the need for being punctual and thorough, as our production schedule is tight. If the article abstracts were due when she was traveling, she delivered them ahead of time." Kotta adds, "In every aspect of the job, Kathryn set the bar incredibly high."
Mohror's biggest challenge was fitting S&TR duties into her workload. "I knew I couldn't lose a year of my own research. I had to be strategic with what to offload or deprioritize so I could stay current in my field," she explains. Overall, she enjoyed the experience and has this advice for LLNL colleagues interested in working with the magazine: "If you have the opportunity to do this job, do it. Previous scientific editors will help you understand what to expect, and the S&TR production team is patient and supportive. It was amazing to learn about science and technology around the Lab."