For an event held multiple times a year—22 times total—Computing's hackathon is never boring or monotonous. This year's fall event took place on October 24–25, with more than 40 teams participating.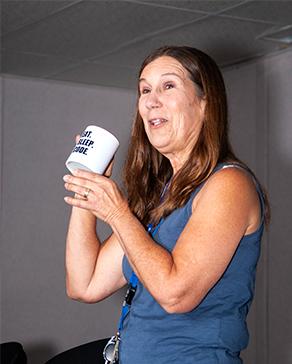 Jamie Van Randwyk, division leader of LLNL's Global Security Computing Applications Division (GS-CAD), welcomed attendees with a message about the hackathons' value. "The Computing Directorate is very supportive of these hackathons. This is a big deal and special opportunity," he said, noting that the event encourages entrepreneurial and strategic thinking. "You get to spend some time taking more risks than you might normally take."
Computing divisions rotate hackathon responsibilities, and the autumnal hackathon was sponsored by GS-CAD and the Applications, Simulations, and Quality Division (ASQ). GS-CAD computer scientist Judy Thomas and ASQ software developer Devon Bates organized the event and were assisted by administrators Jamie Goodale and Nicole Armbruster.
Trying Something New
Bates usually heads into hackathons with a project related to her daily work. This time she decided to try the Vue.js programming framework—just to see how it worked and what it might be useful for. "I was able to develop a user interface quickly," she said. "The framework seemed simpler than using jQuery and JavaScript."
Software engineer Craig Cothren works on an ASQ team that develops a web-based application in support of LLNL's stockpile stewardship mission. The team's app modernization effort inspired his hackathon experimentation with the History API (application programming interface).
"We need to provide a replacement for a feature that remembers the user's history and the last selection they made in a module," he explained. "I wanted to see if the History API was a potential solution." Cothren learned that the API was "extremely simple" with only five methods, though its lack of a delete method required a workaround.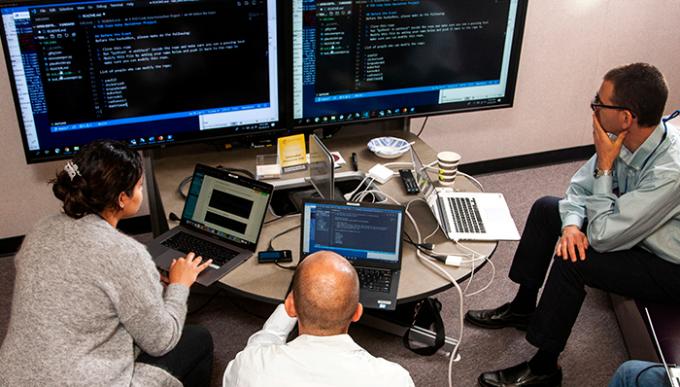 Esteban Pauli, Kathleen McCandless, and Kyle Dickerson coordinated a "code kata"—a practice session focused on a coding technique or principle. "We chose test-driven development because teaching the main concepts is simple, but the process takes practice to master," said Pauli. The nine-person team wrote unit tests for a basic software program.
"We all have different experience levels, but we managed to work together and learn something," continued Pauli, who plans to conduct similar exercises with Computing's Software Improvement Networking Group. First-time hacker McCandless enjoyed the experience. "I'm planning to attend more hackathons," she stated.
Registration Insights
For his 11th hackathon project, ASQ software developer Tyler Jackson reprised the data extraction and visualization techniques he used last summer to provide metrics about the event itself. Armed with Tableau analytics software, he mined five years of hackathon registration information logged in Atlassian Confluence.
For example, hackathon participation peaks in the summer when student interns are onsite, while three people remain at the top of the all-time participation list. In Jackson's analysis of the words registrants used to describe their projects, explore, app, data, and Python stood out. He also noted that TBD has become a more common descriptor over the years—a side effect of the hackathon's "anything goes" and "it's OK to fail" philosophy.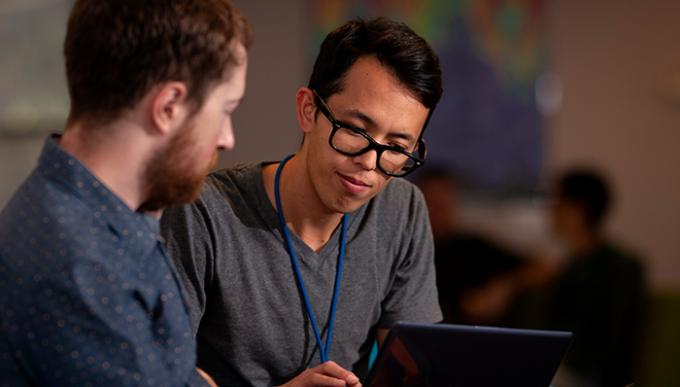 A Hackathon for Every Season
With this rich history, hackathons have proven worthy of sponsors, organizers, and attendees' time and effort. Van Randwyk announced that a fourth hackathon will be added to the 2020 seasonal schedule. The upcoming winter event will be organized by LLNL's Data Science Institute (DSI). The DSI, which Computing co-sponsors, facilitates data-driven research and collaboration.
"The DSI is hoping to continue its community building by hosting events such as the hackathon," noted director Michael Goldman. "We want to provide more opportunities for employees interested in data science to network and explore new tools, techniques, and challenges."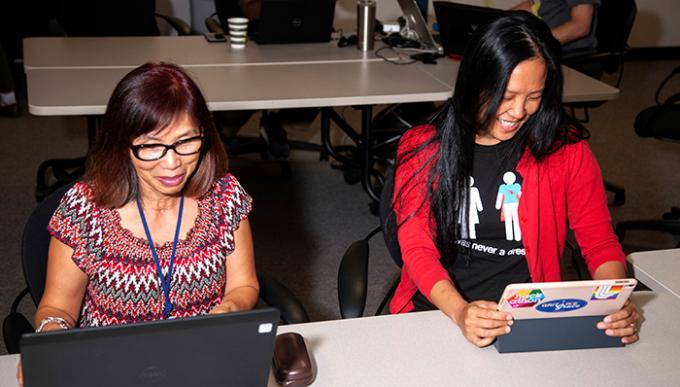 First-Timers Welcome
While most attendees are repeat hackers, the event is always open to first-time participants. Veteran hackers willingly offer advice to LLNL employees who are thinking about signing up for the next one. Cothren, who has been to 10 hackathons, recommends attending as often as possible. "Go to the shared location to be part of the buzz," he said.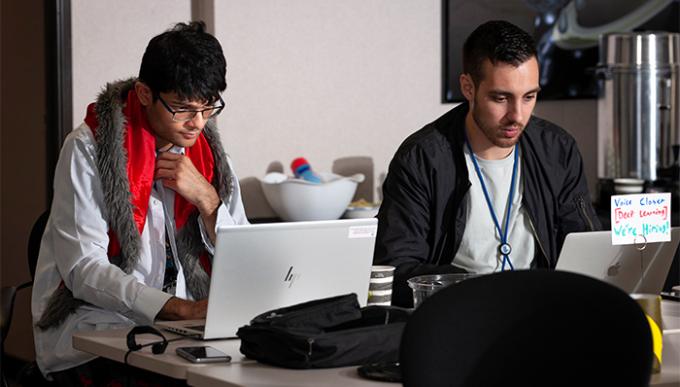 From a technical perspective, 16-time-hacker Pauli advised, "If you're planning to try a new technology stack, make sure you can run the basic 'hello world' program beforehand so you don't have to spend a large amount of time installing software and configuring your machine." Thomas, who attended the first hackathon and many thereafter, pointed out that even a small detail like logging into LLNL's virtual private network is important to test in advance.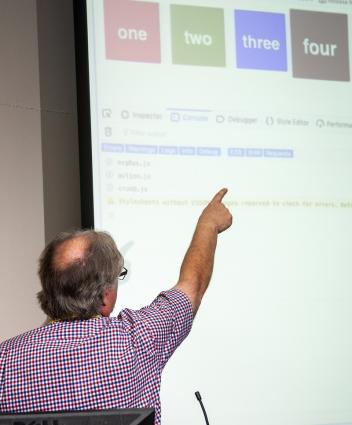 Collaboration and networking are key benefits, as Jackson stated, "I have saved a lot of time by asking experts at the hackathon about something that I was able to bring back to my project." Bates, whose team regularly holds their own mini-hackathons, added that a change of routine and venue can also inspire new ideas. She said, "It is useful to get out of your office and bounce ideas off others."
Hackers will readily admit that their hackathon projects might not unfold the way they expected. They may be called away for their daily work, spend too much time setting up an environment, have a simple task turn into a major one, or just simply fail to complete the goal they went in with. But, veteran hackers attest, this should encourage, not deter, new attendees.
Ultimately, the hackathon journey is more important than the destination. Jackson summarized, "I have never met someone who regretted participating in a hackathon."